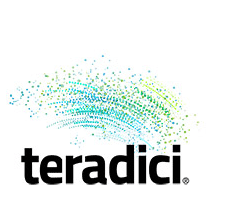 Teradici drives innovation to fundamentally change the way people use and deploy computers by developing technology and solutions that deliver a true, uncompromised PC user experience over IP networks.
Our focused approach in designing advanced image processing algorithms enables the physical separation of the computer and the user, and ultimately will change the way enterprises compute. With this unique concept which we call PC-over-IP® display protocol technology (or simply 'PCoIP'), we deliver an uncompromised experience to the user while providing rigorous security and superior management of the computing system.
The concept is simple, bridging a true PC or workstation computing experience over the network. However, to do it right, the technology is extremely complex. This technology is the first of its kind, and represents the beginning of a new evolution of massively consolidated data center-based computing.
We work with technology partners to develop PCoIP products, with OEM partners that integrate PCoIP into their products, and with a large number of channel partners.
PCoIP server offload / hardware accelerator cards
Reduce server CPU utilization by up to 50%