Reduce peaks in server CPU utilization and ensure a consistent, high quality user experience
The Teradici APEX 2800 PCoIP® Server Offload Card insures the success of  VMware ViewTM VDI deployments by offloading PCoIP image encoding  tasks, and reducing server CPU utilization. This empowers IT managers to  protect and ensure a consistent, high quality user experience, while enabling increased  VDI consolidation ratios. The APEX 2800 is a complementary accessory to VMware  View VDI deployments that's simple to install and setup.
The  APEX2800 can reduce server CPU utilization by up to 50%, freeing up valuable  CPU cycles. IT managers can use these cycles to provide more headroom to the  VDI implementation, ensure consistent application performance or allow existing  virtual machines to run more intensive applications.
By constantly monitoring graphics encoding demands of  each virtual machine, the server offload card dynamically and seamlessly  offloads up to 64 of the most demanding displays from the CPU. The APEX 2800  automatically determines – in real time – which displays will benefit the most  from hardware acceleration. The transitions to and from the CPU and the APEX  2800 happen instantly and transparently, protecting user experience even as  loads change.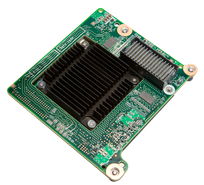 VDI consolidation ratio improvements
As the APEX 2800 reduces server CPU utilization, the extra headroom can be used to  enable consolidation ratio improvements. In typical office environments, IT  managers could achieve consolidation ratio improvements of 1.4 times, dependant  on their users' workload profile. In use cases with high levels of graphics  changes, such as many users watching video at the same time, consolidation  ratio improvements can be up to two times.
IT managers could also achieve consolidation ratio improvements by choosing to  reduce overall CPU headroom. Because the APEX 2800 effectively manages  unpredictable peaks in CPU utilization, the needed amount for CPU headroom is  reduced.
The server offload card enables overall IT cost  reductions when more users are supported on each server. It provides  significant cost savings compared to adding another server, and could therefore  result in fewer servers overall. Reductions in data center floor space, power  consumption and maintenance combine to lower overall IT cost per user.
Simple to install and setup
Designed for use in industry standard servers, the APEX 2800 is an easy to install PCI Express card that is simple to setup. Simply insert the card in the VDI server, install the drivers and click to enable hardware acceleration in VMware View Administrator.
The APEX 2800 is compatible with all existing PCoIP zero clients and VMware View software clients. It is supported by VMware ESXi 4.1 (ESXi 5.0 support coming soon) and VMware View 4.6 or 5.0.
Benefits at a Glance
Reduce CPU utilization
Decrease peaks in CPU utilization by up to 50%
Add headroom to any VDI implementation
Protect user experience
Protect the user experience so that it's reliable and  consistent as loads change
Ensure consistent application performance
VDI consolidation ratio improvement
Consolidate more users on the same server, up to 1.4x in typical office use cases
Each card offloads up to 64 displays at a maximum resolution  of 1920×1200
One additional card can be added to support 128 displays
Increased IT efficiency
More virtual machines can be added to the same number of  servers
Decreases overall cost per user
Simple to setup and install
No complex configuration required – simply plug in the card,  install the drivers and click to enable hardware acceleration in VMware View
Compatible with all existing PCoIP zero clients and VMware  View software clients
Fully integrated with VMware ESXi 4.1 and managed by VMware  View 4.6 or 5.0