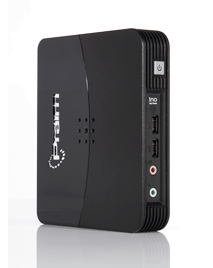 Optimized for Citrix HDX protocols and Microsoft Remote FX, is the ideal thin client to access virtual desktop infrastructures with high multimedia performance.
Built-in support to Citrix XenApp, XenDesktop, VMware View, Microsoft RDS with Remote FX infrastructures.
Is a green solution with very low power consumption, only 8W.
Its High reliability and easy remote management through Praim ThinMan console ensure lower Total Costs of Ownership than a traditional PC.
Simple and secure access to company applications, without the risk of virus infection.
Very small dimensions, including DVI and VGA with dual monitor support, 4 USB external ports.
Video resolution up to 1920 x 1200 @ 30 fps with 3D graphics acceleration.
LCD VESA mounting on the back of the monitor.