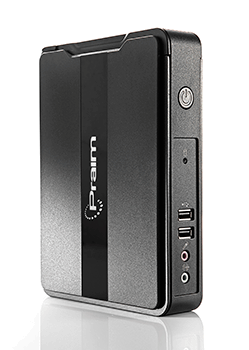 Compact Dual Core Series is the solution that offers an excellent price-performance ratio.
Wide range of models based on Praim ThinOX, Microsoft CE 6.0R2, Windows XP Embedded SP3, Windows Embedded Standard 7 SP1.
Wide range of applications: from access to centralized infrastructures such as Citrix XenApp, XenDesktop, VMware View, Microsoft RDS, to be used as internet navigation point, or to access IBM iSeries systems.
Powerful 1GHz Dual Core Processor with limited power consumption, less than 11 W.
High reliability and immediate centralized management, thanks to Praim ThinMan management console.
Fanless, silent, efficient and safe.
Native dual monitor DVI support.
5 external USB ports, 1 in protected slot, built-in speaker.
Options with built-in Wi-Fi and RS232 serial port.
Video resolution up to 1920 x 1440 with a ratio of 4:3 or 16:9 wide screen.
Small and compact can be installed on the back of the LCD monitor.