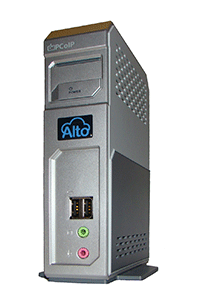 ALTO Zero Clients are simple, secure, stateless, cloud endpoints, perfect for accessing VMware Horizon View, VMware Horizon DaaS and Amazon WorkSpaces.
Furthermore, Alto's Zero Client connected to quad or dual display Host Card enables Windows or Linux workstations to be moved into the datacenter without impacting application performance with the demanding graphics and latency sensitive RWS infrastructure. These new Host Card processors are raising the bar on security and performance with advanced security features such as AES-256 and NSA Suite B security protocols suitable for top secret classification. The solution also provides maximum performance of 300 mega pixels per second (Mpps) capable of driving full screens of changing pixels with application refresh rates of up to 60 frames per second (fps) to ensure the best remote user experience.
The PCoIP product series supports any user type, from task workers and mainstream office workers to extreme workstation/visualization application users. Alto is working closely with both Teradici and VMware® to offer customers a remote puting solution that delivers unpromised user experience, improved scalability and ultimate security.