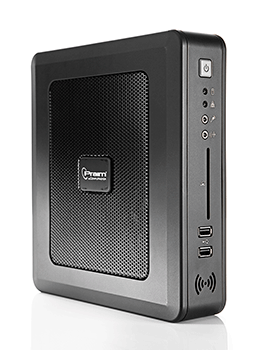 Designed to offer the highest performances accessing complex centralized environment. Ultra is the ideal solution to create a powerful browser terminal.
Powerful solution to access any centralized infrastructure, integrates support towards Citrix XenApp, XenDesktop and VMware View.
Power but with limited power consumption, is a Green solution, only 16W.
High reliability and easy remote management provide a lower Total Cost of Ownership (TCO) than a traditional PC or laptop.
Simple and secure access to company applications, without the risk of Virus infection.
Enhanced IBM AS/400 Display and Printer emulation.
Dual video VGA and DVI, Ultra supports 2 monitors, Ultra is expandable, thanks to the PCI slot it can install Matrox Multimonitor adapters and connect up to 4 monitors.
Up to 2 serial ports, COM1 and COM2 and 1 parallel port LPT1.
WiFi support, with built-in antenna allows you to offer a power full optional wireless workstation.